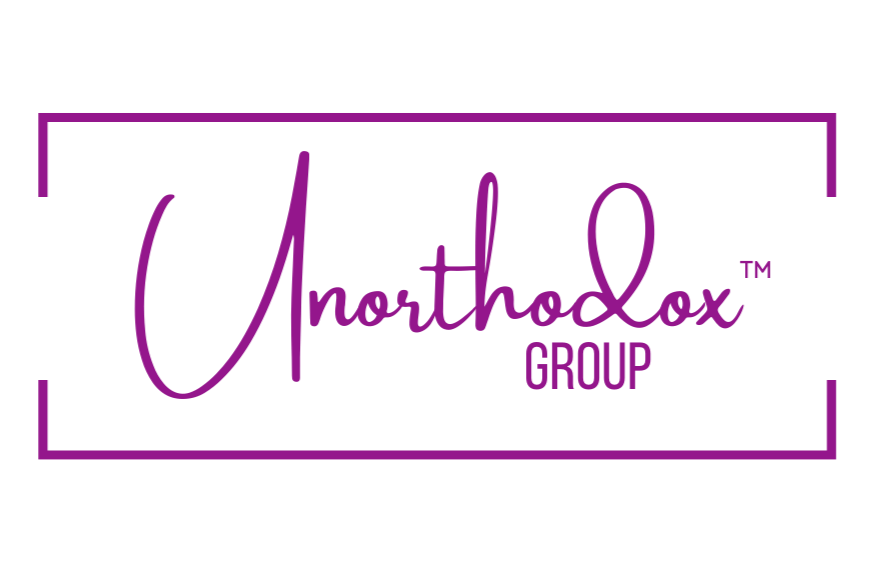 This agreement applies as between you, the User of this Website and Unorthodox Group, the owner(s) of this Website. Your agreement to comply with and be bound all terms listed below in the Terms and Conditions is deemed to occur upon your first use of the Website. If you do not agree to be bound by these Terms and Conditions, you should stop using the Website immediately.

Services provided by Unorthodox Group are meant to help you identify the areas in your professional life and in your thinking that may be standing in your way. However, coaching is not a replacement for professional mental health or medical intervention. If you have emotional or psychological concerns, we to find the appropriate professional help and speak to your coach to determine if coaching as a positive supplement, remains an appropriate option. In general major emotional and psychological wounds are should be addressed before engaging in coaching.
1. Acknowledgement and Waivers
In that spirit, by purchasing educational and/or coaching services from Unorthodox, you confirm that you have read and agreed to each statement and that you wish to proceed:
 I understand that the coaching services I will be receiving from my Coach are not offered as a substitute for professional mental health care or medical care and are not intended to diagnose, treat or cure any mental health or medical conditions. I also understand that my Coach is not acting as a mental health counselor or a medical professional.
 I understand that though my Unorthodox Coach may be professionally licensed in a medical or mental health related field, I will NOT be receiving any medical or mental health therapeutic interventions or services. I also understand that for all legal purposes, the services provided by my Coach will be considered to be provided from any remote location worldwide or otherwise in the United States.
 I understand and agree that I am fully responsible for my well-being during my coaching sessions, and subsequently, including my choices and decisions.
 I understand that coaching is not a substitute for counselling, psychotherapy, psychoanalysis, mental health care or substance abuse treatment, and I will not use it in place of any form of therapy.
 I understand that my Coach, nor any member of Unorthodox Group, are in any way Lawyers or accountants and do not provide any professional services related to these fields. Unorthodox Group strongly suggests that all entrepreneurs hire all legal and accounting representative to ensure legal, ethical and financial guidance.
 I understand that all comments and ideas offered by my Coach are solely for the purpose of aiding me in achieving my defined goals. I have the ability to give my informed consent, and hereby give such consent to my coach to assist me in achieving such goals and aims.
 I understand that to the extent our work together involves career or business, my Coach is not promising outcomes included but not limited to increased clientele, profitability and or business success.
 I understand that my Coach will protect my information as confidential unless I state otherwise in writing. If I report child, elder abuse or neglect or threaten to harm myself or someone else, I understand that necessary actions will be taken and my confidentiality agreement limited in this capacity. Furthermore, if my Coach is ordered by a court to provide information or to testify, they will do so to the extent of that the law requires.
 I understand that the use of technology is not always secure and I accept the risks of confidentiality in the use of email, text, phone, social media, FaceTime, Skype and other such platforms.
 I understand that Group Zoom Coaching sessions will be recorded by Unorthodox Group and can later be utilized as part of the course curriculum or resources.
 I hereby release, waive, acquit and forever discharge Unorthodox Group, my Unorthodox Coach, any agents, successors, assigns, personal representatives, executors, heirs and employees from every claim, suit action, demand or right to compensation for damages I may claim to have or that I may have arising out of acts or omissions by myself or by my Coach as a result of the advice given by my Coach or otherwise resulting from the coaching relationship contemplated by this agreement.
 I further declare and represent that no promise, inducement or agreement not expressed in this agreement has been made to me to sign this agreement. This agreement shall bind my heirs, executors, personal representatives, successors, assigns, and agents.
 I fully understand that I have the right to refuse to agree to any terms outlined in this agreement, though this may result in a lack of contract execution on behalf of Unorthodox Group.
2. Age Restrictions
Persons under the age of 18 should use this Website only with the supervision of an Adult. Payment Information must be provided by or with the permission of an Adult.
3. Business Customers
These Terms and Conditions also apply to customers procuring Services in the course of business.
4. Restrictions
Unorthodox Group will retain all interest and ownership as it relates to any intellectual property shared by the Unorthodox Group. The intellectual property refers to all services provided by Unorthodox, including all documentation, telecommunication, videos, seminars, outlined plans, modifications, improvements, upgrades, derivative words, and all other Intellectual Property rights in connection with the Service, including Company's name, logos. and trademarks reproduced and used through the Service.
5. Third Party Intellectual Property
5.1 Unless otherwise expressly indicated, all Intellectual Property rights including, but not limited to, Copyright and Trademarks, in product images and descriptions belong to the manufacturers or distributors of such products as may be applicable.
5.2 Subject to Clause 6 you may not reproduce, copy, distribute, store or in any other fashion re-use such material unless otherwise indicated on the Website or unless given express written permission to do so by the relevant manufacturer or supplier.
6. Fair Use of Intellectual Property
Material from the Website may be re-used without written permission where any of the exceptions detailed in Chapter III of the Copyright Designs and Patents Act 1988 apply.
7. Links to Other Websites
This Website may contain links to other sites. Unless expressly stated, these sites are not under the control of Unorthodox Group or that of our affiliates. We assume no responsibility for the content of such websites and disclaim liability for any and all forms of loss or damage arising out of the use of them. The inclusion of a link to another site on this Website does not imply any endorsement of the sites themselves or of those in control of them.
8. Links to this Website
Those wishing to place a link to this Website on other sites may do so only to the home page of the site www.learnworlds.com without Our prior permission. Deep linking (i.e. links to specific pages within the site) requires Our express written permission. To find out more please contact Us by email at
[email protected]
or call us in the following number: 954-573-1009
9. Use of Communications Facilities
9.1 When using any System on the Website you should do so in accordance with the following rules. Failure to comply with these rules may result in your Account being suspended or closed:
9.1.1 You must not use obscene or vulgar language towards any other members
9.1.2 You must not submit Content that is unlawful or otherwise objectionable. This includes, but is not limited to, Content that is abusive, threatening, harassing, defamatory, ageist, sexist or racist;
9.1.3 You must not submit Content that is intended to promote or incite violence;
9.1.4 It is advised that submissions are made using the English language as We may be unable to respond to inquiries submitted in any other languages;
9.1.5 The means by which you identify yourself must not violate these Terms and Conditions or any applicable laws;
9.1.6 You must not impersonate other people, particularly employees and representatives of Unorthodox Group or Our affiliates; and
9.1.7 You must not use Our System for unauthorized mass-communication such as "spam" or "junk mail".
9.2 You acknowledge that Unorthodox Group reserves the right to monitor any and all communications made to Us or using Our System.
9.3 You acknowledge that Unorthodox Group may retain copies of any and all communications made to Us or using Our System.
9.4 You acknowledge that any information you send to Us through Our System may be modified by Us in any way and you hereby waive your moral right to be identified as the author of such information. Any restrictions you may wish to place upon Our use of such information must be communicated to Us in advance and We reserve the right to reject such terms and associated information.
10. Accounts
10.1 In order to procure Services on this Website and to use certain other parts of the System, you are required to create an Account which will contain certain personal details and Payment Information which may vary based upon your use of the Website as We may not require payment information until you wish to make a purchase. By continuing to use this Website you represent and warrant that:
10.1.1 all information you submit is accurate and truthful;
10.1.2 you have permission to submit Payment Information where permission may be required; and
10.1.3 you will keep this information accurate and up-to-date. Your creation of an Account is further affirmation of your representation and warranty.
10.2 It is recommended that you do not share your Account details, particularly your username and password. We accept no liability for any losses or damages incurred as a result of your Account details being shared by you. If you use a shared computer, it is recommended that you do not save your Account details in your internet browser.
10.3 If you have reason to believe that your Account details have been obtained by another person without consent, you should contact Us immediately to suspend your Account and cancel any unauthorized orders or payments that may be pending. Please be aware that orders or payments can only be cancelled up until provision of Services has commenced. In the event that an unauthorized provision commences prior to your notifying Us of the unauthorized nature of the order or payment then you shall be charged for the period from the commencement of the provision of services until the date you notified us and may be charged for a billing cycle of one month.
10.4 When choosing your username you are required to adhere to the terms set out above in Clause 9. Any failure to do so could result in the suspension and/or deletion of your Account.
11. Termination and Cancellation of Accounts
11.1 Either Unorthodox Group or you may terminate your Account. If We terminate your Account, you will be notified by email and an explanation for the termination will be provided. Notwithstanding the foregoing, We reserve the right to terminate without giving reasons.
11.2 If We terminate your Account, any current or pending orders or payments on your Account will be cancelled and provision of Services will not commence.
12. Services, Pricing and Availability
12.1 Whilst every effort has been made to ensure that all general descriptions of Services available from Unorthodox Group correspond to the actual Services that will be provided to you, We are not responsible for any variations from these descriptions as the exact nature of the Services may vary depending on your individual requirements and circumstances.
12.2 Where appropriate, you may be required to select the required Plan of Services.
12.3 We neither represent nor warrant that such Services will be available at all times and cannot necessarily confirm availability until confirming your Order. Availability indications are not provided on the Website.
12.4 All pricing information on the Website is correct at the time of going online. We reserve the right to change prices and alter or remove any special offers from time to time and as necessary.
12.5 In the event that prices are changed during the period between an order being placed for Services and Us processing that order and taking payment, then the price that was valid at the time of the order shall be used.
12.6 All prices on the Website do not include VAT. In accordance with HM Revenue & Customs VAT Notice 700/1 (February 2014) and supplements thereof, Unorthodox Group is not yet liable for VAT and therefore not VAT registered and does not possess a VAT number.
13. Orders and Provision of Services
13.1 No part of this Website constitutes a contractual offer capable of acceptance. Your order constitutes a contractual offer that We may, at Our sole discretion, accept. Our acceptance is indicated by Us sending to you an order confirmation email. Only once We have sent you an order confirmation email will there be a binding contract between Unorthodox Group and you.
13.2 Order confirmations under sub-Clause 13.1 will be sent to you before the Services begin and shall contain the following information:
13.2.1 Confirmation of the Services ordered including full details of the main characteristics of those Services;
13.2.2 Fully itemized pricing for the Services ordered including, where appropriate, taxes, delivery and other additional charges;
13.2.3 Relevant times and dates for the provision of the Services;
13.2.4 User credentials and relevant information for accessing those services.
13.3 If We, for any reason, do not accept your order, no payment shall be taken under normal circumstances. In any event, any sums paid by you in relation to that order will be refunded within 14 calendar days.
13.4 Payment for the Services shall be taken via your chosen payment method, immediately for any setup fee that corresponds to the service plan you purchased and at the same day of each subsequent month ("billing cycle") for charges accrued during the previous month ("billing cycle") AND/OR as indicated in the order confirmation you received.
13.5 We aim to fulfill your Order within 2-3 working days or if not, within a reasonable period following your Order, unless there are exceptional circumstances. If we cannot fulfill your Order within a reasonable period, we will inform you at the time you place the Order by a note on the relevant web page or by contacting you directly after you place your Order. Time is not of the essence of the Contract, which means we will aim to fulfill your Order within any agreed timescales but this is not an essential term of the Contract and we will not be liable to you if we do not do so. If the Services are to begin within 14 calendar days of Our acceptance of your order, at your express request, you will be required to expressly acknowledge that your statutory cancellation rights, detailed below in Clause 14, will be affected.
13.6 XXX Ltd shall use all Our reasonable endeavors to provide the Services with reasonable skill and care, commensurate with best trade practice.
13.7 In the event that Services are provided that are not in conformity with your order and thus incorrect, you should contact Us immediately to inform Us of the mistake. We will ensure that any necessary corrections are made within five (5) working days.
Additional terms and conditions may apply to the provision of certain Services. You will be asked to read and confirm your acceptance of any such terms and conditions when completing your Order.
14. Cancellation of Orders and Services
We want you to be completely satisfied with the Products or Services you obtain from Unorthodox Group. If you need to speak to us about your Order, then please contact customer service by email at
[email protected]
You may cancel an Order that we have accepted or cancel the Contract, within 3 days of purchase.
14. 1 If you cancel the Services after provision has begun but is not yet complete you will still be required to pay for the Services supplied up until the point at which you inform Us that you wish to cancel. The amount due shall be calculated in proportion to the full price of the Services and the actual Services already provided. Any sums that have already been paid for the Services shall be refunded subject to deductions calculated in accordance with the foregoing. Refunds, where applicable, will be issued within 5 working days and in any event no later than 14 calendar days after you inform Us that you wish to cancel.
15. Privacy
Use of the Website is also governed by Our Privacy Policy (http://www.learnworlds.com/privacy-policy/) which is incorporated into these Terms and Conditions by this reference. To view the Privacy Policy, please click on the link above.
16. How We Use Your Personal Information (Data Protection)
16.1 All personal information that We may collect (including, but not limited to, your name and address) will be collected, used and held in accordance with the provisions of the Data Protection Act 1998 and your rights under that Act.
16.2 We may use your personal information to:
16.2.1 Provide Our Services to you;
16.2.2 Process your payment for the Services; and
16.2.3 Inform you of new products and services available from Us. You may request that We stop sending you this information at any time.
16.3 In certain circumstances (if, for example, you wish to purchase Services on credit), and with your consent, We may pass your personal information on to credit reference agencies. These agencies are also bound by the Data Protection Act 1998 and should use and hold your personal information accordingly.
16.4 We will not pass on your personal information to any other third parties without first obtaining your express permission.
17. Disclaimers
17.1 We make no warranty or representation that the Website will meet your requirements, that it will be of satisfactory quality, that it will be fit for a particular purpose, that it will not infringe the rights of third parties, that it will be compatible with all systems, that it will be secure and that all information provided will be accurate. We make no guarantee of any specific results from the use of our Service or Services.
17.2 No part of this Website is intended to constitute advice and the Content of this Website should not be relied upon when making any decisions or taking any action of any kind.
17.3 No part of this Website is intended to constitute a contractual offer capable of acceptance.
17.4 Whilst We use reasonable endeavours to ensure that the Website is secure and free of errors, viruses and other malware, you are strongly advised to take responsibility for your own internet security, that of your personal details and your computers.
18. Changes to the Facilities and these Terms and Conditions
We reserve the right to change the Website, its Content or these Terms and Conditions at any time. You will be bound by any changes to the Terms and Conditions from the first time you use the Website following the changes. If We are required to make any changes to these Terms and Conditions by law, these changes will apply automatically to any orders currently pending in addition to any orders placed by you in the future.
19. Availability of the Website
19.1 The Website is provided "as is" and on an "as available" basis. Unorthodox Group uses industry best practices to provide a high uptime, including a fault-tolerant architecture hosted in cloud servers. We give no warranty that the Website or Facilities will be free of defects and / or faults and we do not provide any kind of refund for outages. We provide no warranties (express or implied) of fitness for a particular purpose, accuracy of information, compatibility and satisfactory quality.
19.2 We accept no liability for any disruption or non-availability of the Website resulting from external causes including, but not limited to, ISP equipment failure, host equipment failure, communications network failure, power failure, natural events, acts of war or legal restrictions and censorship.
20. Limitation of Liability
20.1 To the maximum extent permitted by law, We accept no liability for any direct or indirect loss or damage, foreseeable or otherwise, including any indirect, consequential, special or exemplary damages arising from the use of the Website or any information contained therein. You should be aware that you use the Website and its Content at your own risk.
20.2 Nothing in these Terms and Conditions excludes or restricts LearnWolds Ltd's liability for death or personal injury resulting from any negligence or fraud on the part of LearnWolds Ltd.
20.3 Nothing in these Terms and Conditions excludes or restricts LearnWolds Ltd's liability for any direct or indirect loss or damage arising out of the incorrect provision of Services or out of reliance on incorrect information included on the Website.
20.4 In the event that any of these terms are found to be unlawful, invalid or otherwise unenforceable, that term is to be deemed severed from these Terms and Conditions and shall not affect the validity and enforceability of the remaining Terms and Conditions. This term shall apply only within jurisdictions where a particular term is illegal.
21. No Waiver
In the event that any party to these Terms and Conditions fails to exercise any right or remedy contained herein, this shall not be construed as a waiver of that right or remedy.
22. Previous Terms and Conditions
In the event of any conflict between these Terms and Conditions and any prior versions thereof, the provisions of these Terms and Conditions shall prevail unless it is expressly stated otherwise.
23. Third Party Rights
Nothing in these Terms and Conditions shall confer any rights upon any third party. The agreement created by these Terms and Conditions is between you and LearnWolds Ltd.
24. Communications
24.1 All notices / communications shall be given to Us either by post to Our Premises (see address above) or by email to [email protected]. Such notice will be deemed received 3 days after posting if sent by first class post, the day of sending if the email is received in full on a business day and on the next business day if the email is sent on a weekend or public holiday.
24.2 We may from time to time, if you opt to receive it, send you information about Our products and/or services. If you do not wish to receive such information, please click on the 'Unsubscribe' link in any email which you receive from Us.
25. Law and Jurisdiction
These Terms and Conditions and the relationship between you and Unorthodox Group shall be governed by and construed in accordance with the Law of Broward County in the state of Florida, USA. By accepting, you agree to submit to the exclusive jurisdiction of the the judicial district within Broward County, FL.
26. FOR SPONSORS
It is further understood and agreed that the conditions and agreements contained herein are binding on, and may be legally enforced by, the parties hereto, their heirs, executors, administrators, successors and assigns.
Neither Company nor Sponsor shall be liable for the failure to perform their obligations under this Agreement if such failure is due to acts beyond their control including, without limitation, acts of God, acts of the public enemy, acts of government, civil disobedience, lock out freight embargoes or any other cause condition beyond the Company or Sponsor's control.
All parties agree not to disclose to any other party any proprietary information acquired about the other. All parties further agree not to disclose, without prior written consent of Company and/or Sponsor, any information obtained about either party.
This Agreement is governed and interpreted in accordance with the laws of Florida, without regard to its choice of law or conflict of law. Any disputes arising in connection with this agreement and which cannot be settled on an amicable basis shall such dispute shall be submitted to arbitration in Broward County, FL. Arbitration shall be initiated by written notice by either party and shall be settled in accordance with the Uniform Arbitration Act as adopted by the state of Florida, by a single arbitrator selected in accordance with the Rules of the American Arbitration from a panel of arbitrators provided by the American Arbitration who have experience with performance agreements. The decision of Arbitrator shall be binding on both parties. As written, this Agreement constitutes the entire agreement between Sponsor and Company.
Created with